DiscoverIT Installation Services (DIS) provides complete installation and destruction services for H/W products.
Click here for a recent Tape Silo Destruction & Removal Project we completed – Download PDF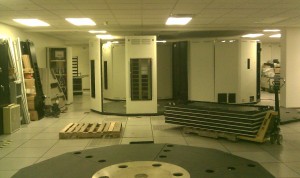 • Description
De-install, pack and remove eight Sun / StorageTek 9310's and their associated equipment from the customers data center. Provide green disposal and recycling of all materials. Provide a Certificate of Green Recycling for each piece of equipment. Hardware included:
➢ Library Management and Control Units
➢ Drive Cabinets
➢ Tape Robot Units
➢ 9840 Drives
• Time Line
Day 0 Activities
• Review tools required, pack
• Joe & Bryan Travel to customer location, arrive at hotel
• Travel to Home Depot, secure additional necessary tool items
Day 1 Activities
• Disconnect ALL power to tape drive cabinets, LMU's, LCUS and LSM (silo).
• Unscrew arrays that cover bolts to drive cabinets and LCU's.
• Remove all drive cabinets, LMU's, LCU's and roll them out to the loading dock. By mid day prepare the cabinets for shipping.
• Coordinate arrival time for the flatbed truck.
• Detach all Silo entry door's and begin stacking on pallets and prep for shipping.
• Begin removing the Theta Arm Assemblies.
• Unscrew all screws and begin moving arrays to trash containers.
Day 2 through 4 Activities
• Acquire two local workers from waste management company
• Begin de-install of inner walls and stack on pallets.
• Ceiling panels are next. Stack for shipping.
• Remove Theta motor, arm and base and prep for shipping.
• Unscrew bolts to outer walls and stack for shipping.
• Unscrew floor bolts and stack for shipping.
Day 5 Activities
• Finish remaining activities.
• Return tools to Home Depot.
For more information:    info@nulldiscoveritsolutions.com
DiscoverIT Solutions Inc
Tel

949-235-8946

Mail

steve.church@discoveritsolutions.com

Add

31384 Polo Creek Dr., Temecula, Ca. 92591