Video Surveillance Management
A Complete Solution for Video Surveillance Archiving
Our fully integrated SoleraTec solution provides you with a means to retain your video surveillance data longer while keeping up with the storage capacity required for increasing camera resolutions and frame rates.  At the same time, you can reduce your storage costs.  Traditionally, video surveillance data has been kept on DVRs, NVRs, or NAS storage devices, resulting in high costs and relatively short retention times.  Our integrated SoleraTec solution allow you to create low-resolution companion files for each video that is kept on disk, so all video is readily accessible, thereby minimizing cost.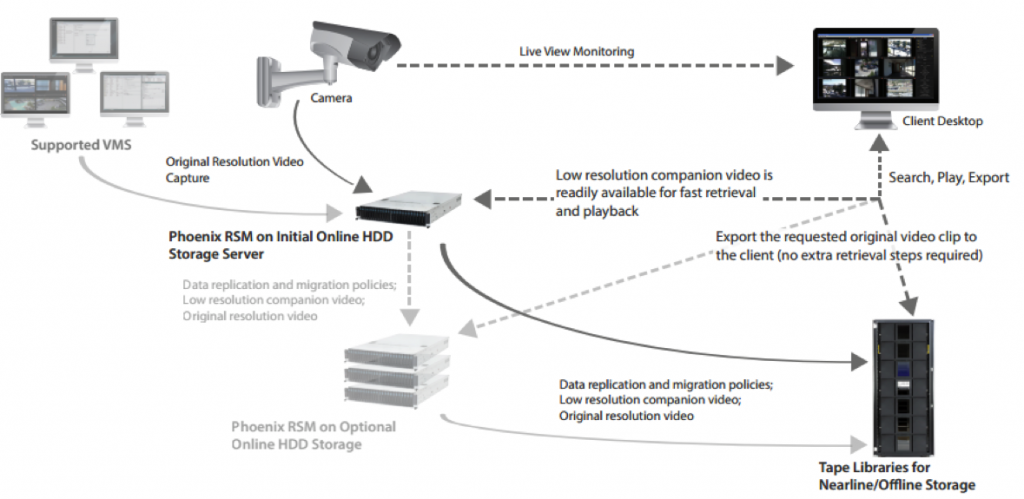 In addition, the system also makes copies of the raw video and archives the to digital tape.  This approach keeps high-resolution video available for long retention times while it takes advantage of low-cost digital tape technology.  In addition to the archiving solution, SoleraTec provides its own video management software (VMS), while also integrating with other leading VMS such as Milestone Systems, OnSSI, and Exacq.
What is SoleraTec Phoenix RSM?
SoleraTec Phoenix RSM (record, store, manage) surveillance video and storage management software lets you record high-quality video, store it for as long as you need, and manage it so that you easily locate and play back any particular moment of interest.  Phoenix RSM software delivers ultra fast search and video playback as well as complete video lifecycle management for the unique retention needs of organizations of any size.
Key features of Phoenix RSM are:

Seamless disk and tape integration for affordable video storage retention
Low-resolution companion files allow for quick search and playback
Extensive metadata for relevant search results
Ability to export specific segment clips quickly from disk or tape
Scalable short- and long-term retention
High-quality video support
Extensive RTSP camera manufacturer support
Complete chain-of-custody capabilities
The Value of an Integrated Solution for Digital Video Surveillance Archiving
Increase surveillance video retention periods:  Most users keep surveillance video for short periods of time, typically 30 days or less.  This is done primarily because the cost of keeping video longer is prohibitive or because the solution does not provide enough scalability to keep more data.  Our fully integrated  SoleraTec solution enables you to cost effectively scale your video surveillance storage whether you need to retain your video for weeks, months, or years
Reduce storage costs:  Higher resolution cameras and higher frame rates are increasing the amount of required storage.  In most cases budgets cannot keep up with this growth.  With a simple and automatic way to store video on low-cost tape media, while keeping low-resolution copies online at all times, you can keep up with storage capacity growth while minimizing the amount of money you spend on storage
Enable storage consolidation:  It is common to store data locally at many different physical locations; for example, on individual DVRs or NAS storage devices.  We deliver an integrated software solution that enables video surveillance data to be collected at geographically separate locations and consolidated into a single archive.  This enables data from many locations to be searched, viewed, and analyzed by a single application.
For more information, please email us at Sales@nulldiscoverITsolutions.com